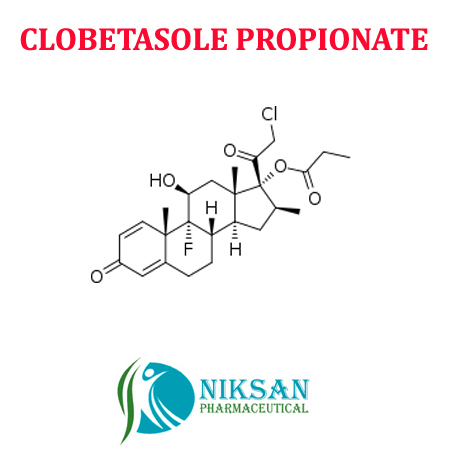 Clobetasole Propionate
Price And Quantity
Kilograms/Kilograms

- INR
Product Specifications
Medicine Raw Materials

CLOBETASOLE PROPIONATE
used to treat skin conditions such as eczema, contact dermatitis, seborrheic dermatitis, and psoriasis

-
. Wash and clean the affected area and after that apply a thin film of Clobetasol Propionate gel on the area and gently rub it.

Suitable For All, Aged Person, Adults, Women, Teenagers, Children
- Unit

Store in cool and dry place, away from light and direct heat. Do not place medicine in bathroom or humid place.
Product Description
NiksanPharmaceutical is one of the leading Manufacturer, Exporter, Distributor, andSupplier of Clobetasol Propionate inAnkleshwar, Gujarat, India. To understand the largest accomplishment ofclients, we present these products at very realistic price ranges. Niksan Pharmaceuticaland Niksan group companies are nowadays one of the largest manufacturer andexporter of Clobetasol Propionate API and also finished formulations.
Niksan Pharmaceutical provides Clobetasol Propionate to all states of India like Punjab,Rajasthan, Andhra Pradesh, Haryana, Telangana, Bihar, Karnataka, Delhi, TamilNadu, Odisha, Maharashtra, West Bengal, Uttar Pradesh, Gujarat, and MadhyaPradesh etc. We also give gift samples to the companies for R&D purpose.
NiksanPharmaceutical is one of leading manufacturer and exporter of Clobetasol Propionate for many years inall the countries like Puerto Rico, United States, Nepal, Philippines, HongKong, Nigeria, Bangladesh, United Arab Emirates, Pakistan, Taiwan, Singapore, Malaysia,Canada, Indonesia, Thailand, New Zealand, Vietnam, Israel, United Kingdome, SaudiArabia, Chile, Australia, Colombia, France, Germany, Brazil and many othercountries.
Clobetasol Propionate is class I corticosteroid medication.Clobetasol Propionate used in the treatment of many skin disease like skinrash, eczema, seborrheic dermatitis, psoriasis, contact dermatitis. ClobetasolPropionate is used in skin infections. Comes in many dosage forms like shampoo,cream, lotions, and ointment
SYNONYMS: Clobetasol 17-propanoate,Clobetasol 17-propionate, Clobetasol propionate, Clobetasol propionate E
IUPAC NAME:(1R,2S,10S,11S,13S,14R,15S,17S)-14-(2-chloroacetyl)-1-fluoro-17-hydroxy-2,13,15-trimethyl-5-oxotetracycloheptadeca-3,6-dien-14-ylpropionate
CAS NO: 25122-46-7
FORMULA: C25H32ClFO5
MOLECULAR MASS: 466.97 g/mol
STORAGE CONDITIONS: Store in cool and dry place, awayfrom light and direct heat. Do not place medicine in bathroom or humid place. Keepaway from children and pets.
HOW TO USE: Do not use Clobetasol Propionate on face, under arms oron open wounds. Wash and clean the affected area and after that apply a thinfilm of Clobetasol Propionate gel on the area and gently rub it. Two time aday.
HOW CLOBETASOL PROPIONATE WORKS: Clobetasol Propionate binds with theglucocorticoid receptor and inhibits the pro-inflammatory receptor. ClobetasolPropionate promotes the anti-inflammatory signals to the brain and givesinflammatory effects.
PHARMACOKINETICS: Clobetasol Propionate absorbed systemiccirculation after the application. Clobetasol Propionate takes 5 hours to reachthe peak plasma concentration after using 2 times daily. The bioavaibility ofClobetasol Propionate is only 2.09%. The half-life of Clobetasol Propionate is96hours. The medicine metabolises in liver and after it will excrete by biliaryrout.
SIDE EFFECTS: Normally burning, skin irritation, stinging,dry skin, redness my seen at the site where medicine was applied. Contact yourdoctor I you see some side effects like stretch marks; skin tightening, acne,skin thinning, and unwanted hair grow. Some rare side effects like weakness,fainting, skin burning, rash, itching, weight loss, headache seen in patients.
PRECAUTIONS: Tell your doctor if you are allergic to themedication.
If youhave medical history like weak immune system, skin problem, poor bloodcirculation problem, liver problem tell your doctor before using themedication.
Themedication can temporarily slow down the child's growth so take advice fromdoctor before giving to children.
Do notuse this medication if you are in pregnancy or in lactation period.
CDSCO APPROVAL: Clobetasol propionate + Ammonium lactategel is approved by CDSCO in India in 07.08.1996
Clobetasol propionatecream/ointment approved by CDSCO in India in October-1987
Clobetasol propionate bulk approved by CDSCO in India in October-1987
Nadifloxacin (1%) + Clobetasol (0.05%) approved by CDSCO in Indiain 06.10.2003
FORMULATIONS AVAILABLE IN MARKET:
Clobetasol propionate 0.05% w/w cream
Clobetasol propionate 0.05% w/v solution
Clobetasol propionate 0.025% w/w gel
Clobetasol propionate 0.05%w/w + Clotrimazole 1%w/w cream
Clobetasol propionate 0.05% w/w + Miconazole 2%w/w cream
Clobetasol propionate0.05% w/w + Luliconazole 1% w/w cream
Clobetasol propionate0.05% w/w + Terbinafine 1% w/w cream
Clobetasol propionate0.05% w/w + Nadifloxacin 1% w//w cream
Clobetasol propionate0.05% w/w + Salicylic acid 3% w/w cream
Clobetasol propionate0.05% w/w+ Fusidic acid 2% w/w cream
Clobetasol propionate 0.05% w/v+ Salicylic acid 3%w/v gel
Note: Product protected by validpatents are not offered for sale in countries where such patents are stillvalid and its liability is at Buyers Risk
REFERENCES:
www.webmd.com
https://pubchem.ncbi.nlm.nih.gov
https://go.drugbank.com
https://cdscoonline.gov.in
https://www.wikipedia.org/
https://www.drugs.com
https://www.zaubacorp.com
https://www.practo.com/consult
Trade Information
NHAVA SHEVA

Paypal, Western Union, Telegraphic Transfer (T/T), Letter of Credit at Sight (Sight L/C), Letter of Credit (L/C), Delivery Point (DP), Days after Acceptance (DA), Cheque, Cash in Advance (CID), Cash Advance (CA), Cash on Delivery (COD), Cash Against Delivery (CAD)
Yes

Free samples are available
HDPE DRUM WITH TWO LDPE INNER LINER

Africa, Middle East, Western Europe, Eastern Europe, South America, North America, Central America, Australia, Asia
All India

WHO GMP,GMP,GLP,ISO