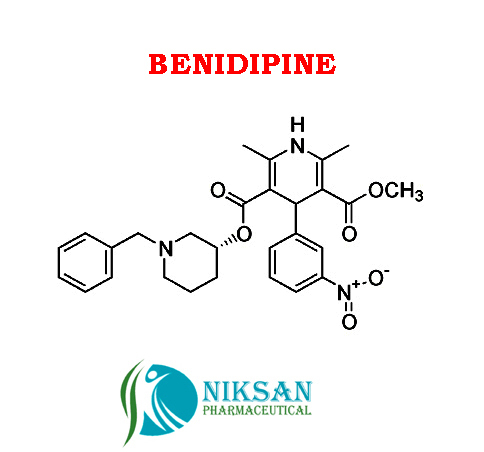 Product Description
We are offering high quality of BENIDIPINE. We are known for manufacturing, exporting, distributing, trading and supplying Benidipine Hydrochloride in Ankleshwar, Gujarat, India. Further, this is safely packaged by our professionals in diverse packaging options that maintain its purity and effectiveness. BENIDIPINE is available at dose of 4 mg and 8 mg. BENIDIPINE having minimum of side effect as compare to other antihypertensive drugs.
BENIDIPINE is a new generation triple L-, T-, and N- type calcium channel blocker used as antihypertensive agent. It is reno protective and cardio protective which is found to be superior to Cilnidipine and Amlodipine as per clinical studies.
Niksan Pharmaceutical is leading Manufacturer, Exporter, Distributor, and Supplier of BENIDIPINE in Ankleshwar, Gujarat, India. Niksan Pharmaceutical manufacturing all products under GMP site.


SPECIFICATION

Tests

Requirements

Results

Physical appearance

Yellowish or yellow crystalline powder

Confirmed

Solubility

Very Soluble in Formic acid Soluble in Methanol, Slightly soluble in ethanol (99.5) and practically insoluble in water

Confirmed

Identification by IR

IR absorption of the sample must be concordant with the standard spectrum.

Confirmed

Loss on drying

Not more than 0.50% w/w

0.02%w/w

Residue after Ignition

Not more than 0.20% w/w

0.07%w/w

Heavy metals

Not more than 10 ppm

Less than 10 ppm

Related substances(by HPLC)

Individual impurity

Total impurities

Not more than 0.5%

Not more than 1.0%

0.20%

0.28%

Assay (on dried base)

Between 99.0% to 101.0%

99.4%w/w